Attractions near Arrandale Lodge
University of East Anglia

The University of East Anglia (UEA) is an internationally renowned university based on a distinctive and attractive campus, in the historic city of Norwich. We provide top quality academic, social and cultural facilities to over 15,000 students.
UEA is ranked in the top 1% of HE institutions in the world and is joint 4th among mainstream English universities for student satisfaction (NSS 2012). It is a leading member of the Norwich Research Park, one of Europe's biggest concentrations of researchers in the fields of environment, health and plant science
Norwich Research Centre

The Norwich Research Park is a business community of research organisations with world-leading science credentials and over thirty science and technology based businesses. Norwich Research Park is a partnership between the University of East Anglia, the Norfolk and Norwich University Hospital, four independent world-renowned research institutes namely the John Innes Centre, Institute of Food Research and The Genome Analysis Centre and The Sainsbury Laboratory linked to the Gatsby Charitable Foundation.
Norfolk & Norwich Hospital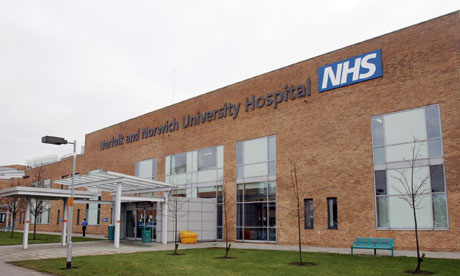 The Norfolk and Norwich University Hospital is a National Health Service academic teaching hospital located on the Norwich Research Park.
Eaton Golf Club - Norwich - 1.47 miles

Eaton Golf Club was founded in 1910 and is one of the oldest established golf clubs in Norfolk. The course, designed in part by the four times Open champion JH Taylor, offers a challenging 18-hole test to golfers of all standards. Despite being situated only a mile or so from the tourist attractions and shops in the centre of the city of Norwich, it is quiet, pretty and mature with greens that have been described by professional agronomists as the best in the region. Renowned throughout Norfolk, Eaton is often described as a "veritable golfing oasis within the city"
Norwich Centre - 1.66 miles

'Welcome To Norwich A Fine City' visitors read on road signs as they approach the city. 'A fine city' is how George Borrow described Norwich in 1851. Norwich has all the vibrancy of a major city, with none of the stress. Visitors can enjoy shopping at the 900-year-old market, an art nouveau arcade, new shopping mall and small specialist shops. There are lots of places for eating out, which cater for every budget and taste. Norwich is the county town of Norfolk, at the heart of East Anglia, serving a wide area; it has had a famous market since Norman times, and it is still going strong. The centre for arts and entertainment in the east of England, Norwich's theatres and cinemas offer great entertainment.
Norwich School of Art and Design - 1.66 miles

Norwich School of Art and Design was founded in 1845. It is a higher education specialist art and design college based on a single site in the center of Norwich, Norfolk. The School offers a range of foundation degrees, besides bachelors, masters and doctoral degrees. The academic programs offered are Games Art & Design, Graphic communication, Film & Video, Surface Design, Animation, Illustrations, Photography, Textiles, Visual Studies, Fine Arts, Drawing and Digital
The Royal Norwich Golf Club - Hellesdon - 1.76 miles

For golf in Norfolk the discerning golfer need look no further that The Royal Norwich Golf Club conveniently situated on the outskirts of Norwich. The first 9 holes covering some 2,920 yards were opened on St Andrew's Day, 30th November. The official opening of the Club took place on 1st February 1894, by which date 18 holes measuring 4,925 yards were in play. In March 1894 a 9 hole shortened course of 2,425 yards was established specifically for play by ladies. With some subsequent purchases of additional land, the Club continues to occupy the original site at Hellesdon selected by the founding fathers. The superb undulating Course set in mature parkland provides a challenging game of golf to professionals and amateurs alike.
Norwich City Football Club - 2.24 miles

Fast Fact: The nickname Canaries was adopted because of Norwich's trade in breeding and exporting pet birds, the club's colours were chosen as a result. Fast Fact : Safety concerns forced Norwich to leave their orginal home ground, The Nest, which was situated in a disused quarry in 1935.